It's always great to have extra lights for area lighting and performing immediate tasks while outdoors.
In the past options were limited and varying sized battery requirements were a hassle. Now with rechargeable lights you can get away for a long weekend and not have to carry a twenty pound bag of spares. It's also nice to see beyond the light of the campfire when Jackalopes come looking for your whisky!
The three lights we are featuring are all portable and perform in a certain niche based on their size, but are all compatible using the same charging cord for easy packing, plus one has an extra trick up its sleeve.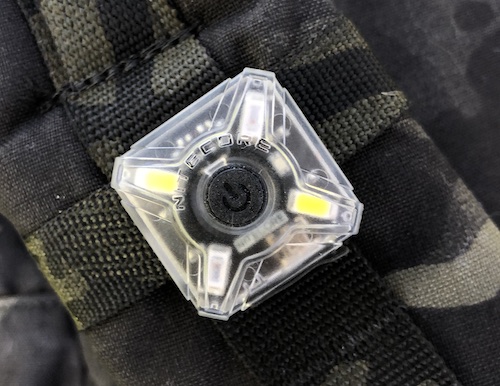 Small
Nitecore NU05.
The smallest light of our trio is about the size of a Starburst, but don't let that fool you – it has a ton of uses and features. The NU05 has both red and white LED that are programmed for a variety of uses. 
For the red LEDs there is a small single flashing indicator, dual slow flash and strobing functions. The white LED has a dual slow flashing and constant on that is 35 lumens.
There is button that you use to shuttle through the various settings. Holding it down activates the lockout function.
The light charges via micro USB and has an approximate runtime of one hour with the white light constantly on.
The NU05 small size and built in tabs on the back allow it to be placed on the webbing of backpacks on a head or wrist band or just about anything else you can come up with. It also works well with velcro one wrap or self adhesive velcro to attach directly onto loop fields.
Mounted on a sternum strap or on the front of your pack strap it is a good hands free light that only weighs .37 ounces. It is also dust proof and water resistant so it can go wherever you do.
Using the red and white flashers is good way to maintain high visibility during dusk or evening for for cyclist, joggers or put it on dogs or little kids to more easily keep tabs on them while outdoors.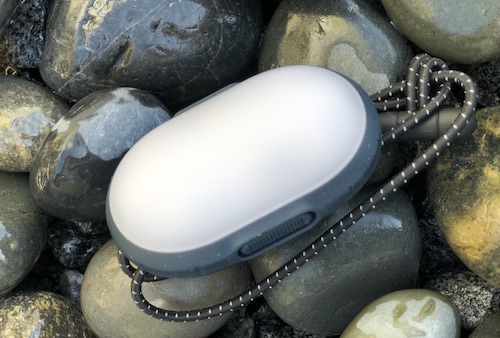 Medium
Lander Cairn Mini lantern. 
A nice medium sized light the Cairn has a dimmable LED that produces a max of 150 lumens and when turned down provides a nice soft glow to read by. That may be the only thing soft about it.
The Cairn is IP65 rated, making it waterproof and dust-proof. It also has a lockout feature to prevent unintended drain on the battery when in transit. LEDs on the side show the charge level. Equally important it also uses a micro usb plug so it is interoperable with most chargers and power banks.
Another nice feature is the shock cord attachment that allows you to wrap it around your wrist or hang it off practically anything like the interior/ exterior of your tent or even inside your pack for easy viewing of its contents at night.
Large
Black Diamond Moji Lantern Charging Station Power Light.
First of all that name is quite the mouthful, but a perfect description and second it reminds of the light/heater/charger that Luke Skywalker plugs into R2-D2 after his crash landing on Dagobah.
So first the light: The Moji has a 250 max lumen dimmable led that can cast light up to a 15 m ring. On its lower settings the lantern is perfect for the middle of your camp table. Like the Cairn it provides a nice defused light that won't burn out your retinas while you try play cards, tell tall tales or eat your chow. Operating the light is very easy with dimming, flasher and lock-out functions all in one pressure switch. Four small LEDs indicate charge levels. 
If you don't have a table you can hang it quite easily by inverting it and deploying the two hooks underneath. These are perfect for tree branches, paracord, the ends of roof racks etc. etc.
Now the Charger: Just like on Dagobah, the Moji is also a power bank thanks to its onboard rechargeable lithium ion battery. You can charge your electronic gadgets like phones, cameras and other lights.
Opening a nice little hatch reveals the three power ports that should cover all the bases. And following the philosophy of "two is one" the Moji also houses two AA batteries for a backup power supply- pretty smart!
About the size of a large coffee mug and just under one pound the Moji Charging Station Lantern is perfect for car camping, overlanding, the swamps of Dagobah or for whenever the power goes out at home.