A monocular offers particular advantages over binoculars due to their compactness and weight savings. Additionally, people with less than stellar vision, who wear glasses or have astigmatism (or even the piratical types who wear an eyepatch) will get better performance looking through a single tube versus binoculars.
The Vortex Solo is one of those perfect pieces of kit that you'll always want to have around. The Solo is well made, lightweight, and can be found for under $100. Its compact size makes for easy handling and carrying, while the 8X magnification allows for clear viewing and great light transmission without the perceived wobble of a higher-powered lens.
I use mine all the time for checking the surf, observing wildlife, or picking routes and navigation when hiking. It basically goes where I go- from my car around town, to in my pack while adventuring.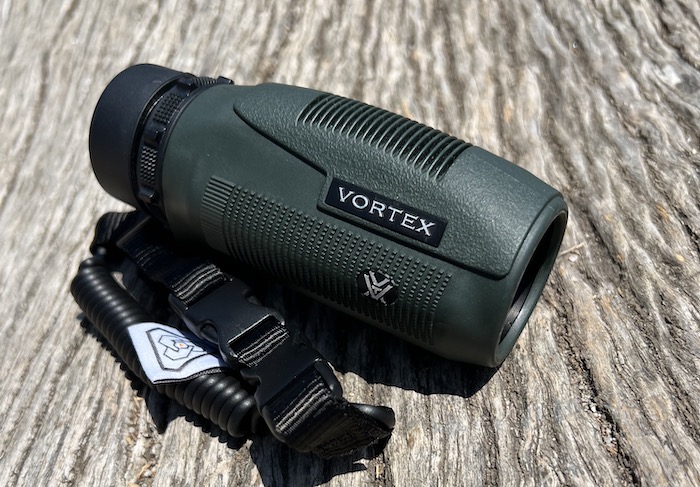 Features:
Fully multi-coated optics – Increased light transmission with multiple anti-reflective coatings on all air to glass surfaces.
Roof prism- For greater durability and compactness
Waterproof- O-ring seals that prevent moisture, dust, and debris from entering the monocular for performance in all environments.
Fog proof- Nitrogen gas purging delivers fog-proof, waterproof performance
Rubber Armor- Provides a secure, non-slip grip and durable external protection
Adjustable eyecup- Adjusts up and down to precise settings to maximize custom fit for comfortable viewing with r without eyeglasses.
Robust metal utility clip- Removable and multi-position clip allows multiple attachment points to pockets or the webbing on your pack.
If you want to carry it on your person, it's small enough to fit in the front pocket of a jacket, and at just under 10 ounces you won't know it's there. You can also keep it at the ready using the attached metal belt clip which works great on pockets, belts, or the sternum strap of your pack.
The monocular also has a lanyard loop molded into the grip so that you can attach a leash or neck strap for an extra bit of security.
The Solo is very rugged; being waterproof, fog proof, and shock resistant. If you somehow damage your monocular, Vortex has one of the best warranties in the business.  They will repair or replace their product at no charge, no matter what!
Vortex Solo 8X36 by the numbers:
Magnification- 8 x
Objective Lens Diameter- 36 mm
Eye Relief- 18 mm
Exit Pupil- 4.5 mm
Linear Field of View- 393 feet/1000 yards
Angular Field of View- 7.5 degrees
Close Focus- 16.4 feet
Length- 4.9 inches
Width- 2.6 inches
Hand Grip Width- 2 inches
Weight- 9.7 ounces