Before we can camp in the great outdoors, we need to get our gear there. If we're just car camping, the weight of what we pack hardly matters. However, if we decide to backpack it, weight becomes the ultimate concern. After all, the burden we put on our back seems to get heavier the further we push. Nature is supposed to provide solace, not torture. Ultralight gear and making the right choices in gear can save you plenty of converted pain since ounces turn into pounds over distance. I'm not a math person but I know there is a formula to be found there somehow. Simply put, smart decisions in your gear bring you closer to ultralight status than heavyweight. These decisions can greatly improve your experience and comfort.

Sleeping Gear
There is an old expression, "travel light and freeze at night." It is hard to sacrifice good warmth for weight. However, if you pack a tarp instead of a tent and if you a have high-loft sleeping bag or quilt over a less efficient one, you can make do. Personally, I can't recall how many nights I've spent with nothing more than a small tarp, an emergency blanket barrier/ground cloth, sleeping pad, and an insulating layer. During cooler months, I don't have to worry about mosquitos.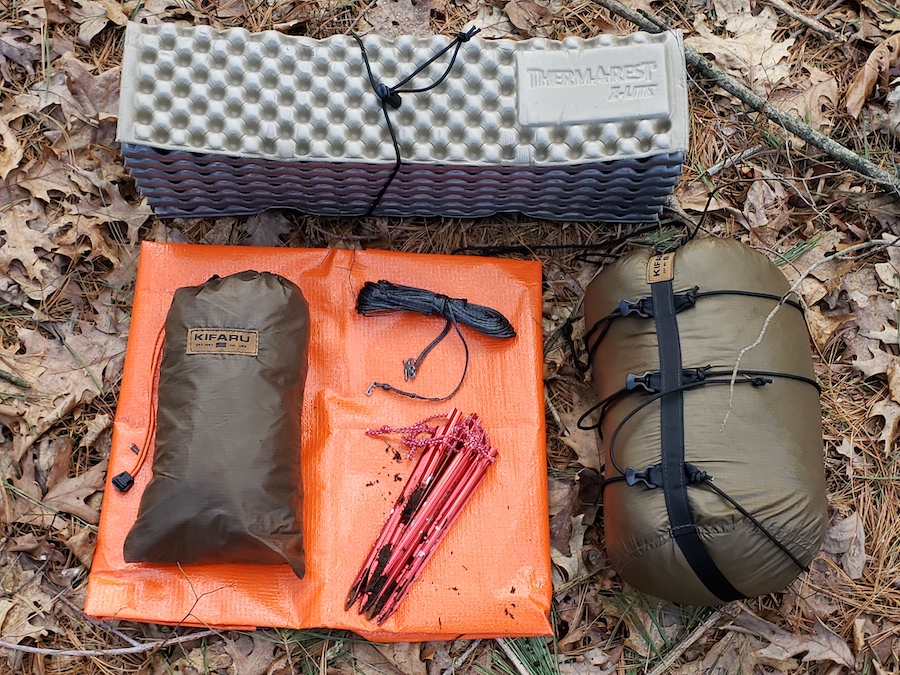 With just cordage, I can string up my tarp between trees or with a hiking pole, I can lift up an end for more visibility. I often pair my sleeping quilt with a warm jacket, hat, gloves, and socks. All told, the sleeping gear I carry takes up the most weight and space in my pack. BTW, I don't need to carry tent stakes but I find after a long day of hiking I don't mind having a little extra weight to carry instead of having to carve them.

Cooking Gear/Camp Kitchen
Ultralight cooking gear means one combination, dried food and boiling water. Most of the meals you will carry in your ultralight pack will be dehydrated or freeze dried only requiring water to reconstitute it. While you can get away with cold water, boiling water will mean the difference between cold chili and hot chili. I prefer the latter.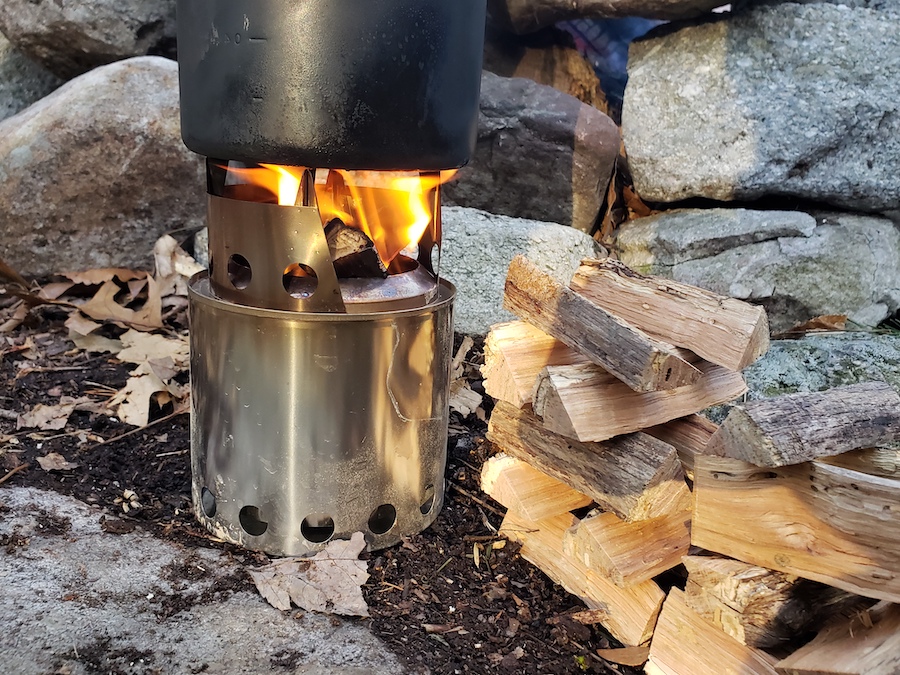 My cooking gear is made from titanium and when I can, I utilize fires instead of a stove. Sometimes I pack my Bushbuddy stove that gassifies wood instead of building a small fire ring or using a canister-fuel stove.  As long as I'm in the woods, I'll have fuel. Since I'm just boiling water, I only need one pot to boil water in. If I'm the only one in camp, my titanium canteen cup will suffice.
For two or more people, I'll pack a slightly larger pot. Since most freeze dried meals are high in sodium, I leave the salt packets at home. At most, I'll pack a small vial of Tabasco sauce to spice things up.

Miscellaneous Gear/Safety Gear
Beyond where you sleep and what you eat, the rest of the gear you carry will address basic camp safety and utility. 
As an ultralight camper, you may choose only to carry a Swiss Army Knife but I personally will not travel without a good 4" fixed blade on my belt. A knife is your most important tool and you can do better work with a dedicated fixed blade.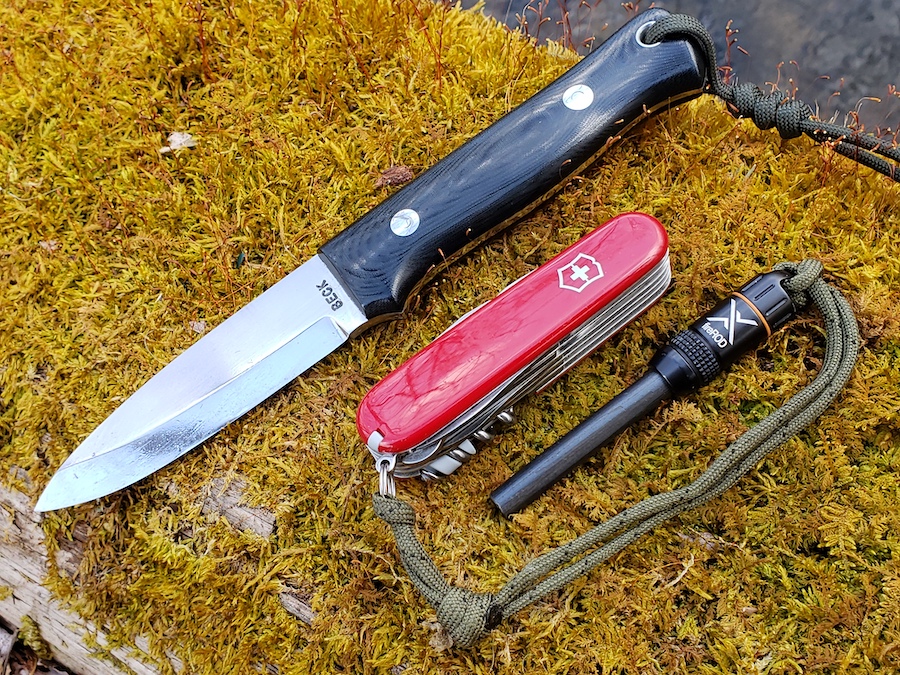 You may carry only a lighter to start your campfire or light your stove but I always make sure I have an emergency ferro rod and tinder with me. Fire making is an essential need in the woods and I like having the best tools to accomplish the task at hand.
Other items you will want to carry include a headlamp or flashlight, lightweight cordage. 550 paracord is popular with most people but it becomes too heavy for the ultralighter. Look to carry Atwood micro cord or use lightweight alternatives instead. Just about any gear you can carry full-size, you can find an ultralight alternative.
I wouldn't recommend downsizing your medical kit/trauma kit. You will have to decide what gear you are willing to downsize and what you will not compromise on.
Be smart with your decisions. Far too many ultralight hikers/backpackers take unnecessary or foolish risks for the sake of staying underweight. Never compromise on addressing the rule of threes. Keep in mind what your body needs and pack what you need to.
Hidden Weight
As you read more about ultralight hiking and camping, keep in mind some weight is hard to avoid. Water weight including water adds on pounds quickly. Your boots can make each step feel strained or light depending on the weight of your footwear selection. Just make sure to choose the right shoes for your activity level. 
Additional weights come in the form of personal items like phones, keys, wallets, spare clothes, and clothes with heavier weight fabrics. Trail snacks tend to pack on the weight easily as they are often fresh and have not been dehydrated.

Make Changes Gradually 
If you have decided to move toward ultralight hiking and camping, make changes gradually. You will find the transition much smoother if you slowly take away the heavier items and replace them with smaller and or lighter counterparts. Making a drastic jump from roomy cabin tent to tarp shelter without experiencing an enclosed bivy or a smaller backpacking tent can intimidate and discourage a would-be ultralighter. 
By paying a little extra attention to your gear selection you will find that the ultra light experience is still a very enjoyable way go out in the woods and without carrying extra weight in your pack your back will thank you!