The Grand Canyon should be on everyone's short list of must see natural wonders. On January 11, 1908, President Theodore Roosevelt declared the Grand Canyon a national monument and in 1919 it was further preserved by becoming one of the country's earliest National Parks. It is also a UNESCO world heritage site.
Formed by millions of years of erosion by the Colorado River, the Grand Canyon is 277 miles long, 18 miles at it's widest and over a mile deep at its floor. This large area means there are almost unlimited views and ways to see the Canyon whether from the air, hiking along the rim, camping or from a raft in the Colorado River.
Depending on where you go in the park or the activity it is important to plan ahead. During 2016 over 6 million people visited the park. In order to lessen crowds and the impact on the environment, some permits are required for activities such as river trips and back country camping. It's best to make reservations as far in advance as possible though there are a small number last minute permits available for backcountry camping they are usually limited to a two night stay.
When deciding where and how to visit the Grand Canyon it may be easier to divide it into North and South.
North Rim
The North Rim section of Grand Canyon National park and is only open from May to October. This short season is due to the winter snows that frequent North Rim's 8 thousand feet of elevation. The North Rim is a good bet if you'd like to avoid crowds as it is 45 miles north of main area of the park and offers areas for camping, motor campers and a lodge. You can take it slow or there is plenty of scenic driving in this area with plenty of stops to view the Canyon from a variety of vantage points.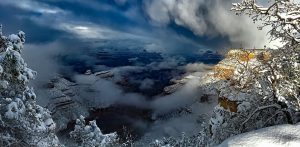 South Rim
The South Rim of the Grand Canyon is the main hub of activity. It is home to the Park's Headquarters and many lodges and hotels. This area can be very crowded during peaks tourist season. There are also camp grounds and plenty of hiking trails in this area.
Your best bet is to come off peak and be an early bird. There is train service from Williams Arizona to the South Rim. No matter your mode of transportation it is advised to skip parking hassles and use the various free shuttle busses that make multiple loops throughout the park.
The South Rim is also the jumping off point for the famous mule rides to the canyon floor. Do to 2011 changes in park regulations there are only 10 slots available per day so plan accordingly.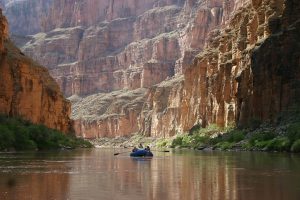 Visiting the Grand Canyon also puts you in close proximity to other National Forests and great outdoor destinations. One hour by car is the forested and cooler area of Flagstaff. One more hour and you can visit Sedona which also has beautiful red cliffs and rock formations. Sedona is also believed by some to be a vortex of the Earth's energy!
However you do it and no matter the season, the Grand Canyon will leave you with lasting memories of Nature's shear power and beauty.