Foreword:
In 2016, I had the chance to see Alaska for the first time and also check off "take a flight in a float plane" on my bucket list with a trip over the North Slope of the Brooks Range. Ever since that trip, I've longed to go back to the land of the endless sun and continue seeing what else the state has to offer.
Fast forward two years and you'll find me in the fall of 2018 planning to make that return trip with a handful of my good friends. I wanted to show my friends a good time and enlisted the help of my friend Jeremy "JAHA" Anderson from the Silvertip Lodges in Soldotna. A talented guide himself, he helped me arrange a fly-out salmon fishing trip all of the guys in my group could easily participate in regardless of their varying ages and abilities. He planned for us to utilize the services of Alaska West Air to travel west to the Kustatan River. There we would meet up with a local guide to go after Coho (A.K.A. silver) salmon and test our skill and/or luck on the run.
Fast forward once again to the present day after the trip is over but my interest in Alaska hasn't been satiated. I'm planning on going back again as are all the guys in my group for their second time. For those of you looking to go for the first time, perhaps this "fly-out float-plane journal"will inspire you to take your first adventure to the 49th state.

Seeking Silver Salmon
There are many reasons to travel to Alaska. It is home to adventure seekers and untouched wilderness. It is still wild with many open spaces inhabited by some incredible creatures including the bald eagle, grizzly bear, and 5 different species of salmon. My group was anxious to dip our lines for a chance to catch coho salmon.
This species just started their run from Cook Inlet up the Kustatan River. We were hot off of a great fishing trip with Alaska Drift Away Fishing and the salmon bug had bit us and bit us HARD! We wanted more and we were told the fly-out salmon fishing would let us have a chance to catch another species just starting to work their way upriver to spawn then die.
Unlike the flossing method we used on the sockeye salmon, the silver would need a different approach and method to put them on our stringer. We packed our basic gear for the day and discussed what we could possibly encounter the following day. The fishing party was ready to hook lips.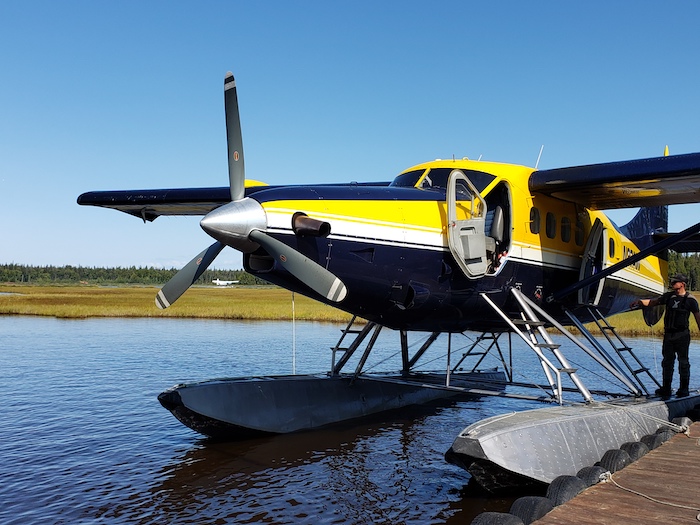 The De Havilland Otter
We were instructed to leave our lodge with plenty of time to spare for traffic. After all, in Alaska the seasons are spring, it's about to be winter, winter, and road repair. We had to make sure we had enough time to negotiate traffic and brake lights at construction sites along the way and still have enough time to make it to the dock where we would meet our float plane. 
When we arrived at Alaska West Air, we were instructed to weigh our gear and ourselves as float planes have strict carrying capacities. We also had a chance to swap out our boots for hip waders as we were told we would we would end up in the river and need them instead of our Muck Boots.
After sizing a size down, we donned our boots and walked to the dock where Ella, one of the employees, was busy working harder than most pulling fuel hoses, tying up arriving planes, and working with the floatplane pilots to get folks on board. We were told to look for a yellow and blue plane but none were at the dock when we arrived. As we waited, two landed and taxied to the dock with the second being our aircraft.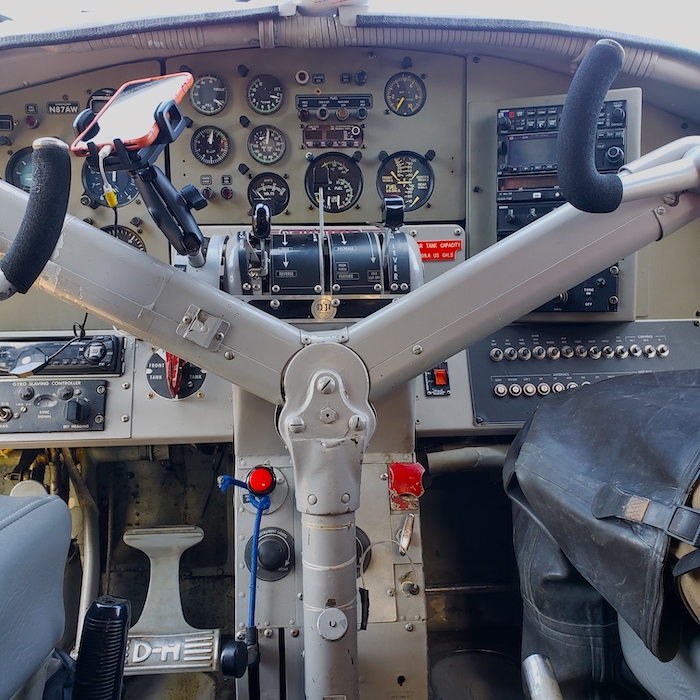 The type of plane we would take was a Dehavilland Otter built in the 1950s and known for its reliability. The Otter is one size up from the Dehavilland Beaver. We boarded the plane and took our seats. A few of us were given headsets to talk to one another and listen to the 90s rock music playing. I can't explain how incredible it was to hear Bush "Machinehead" and Lenny Kravitz "Are you gunna go my way?" as the plane roared across the water and took off.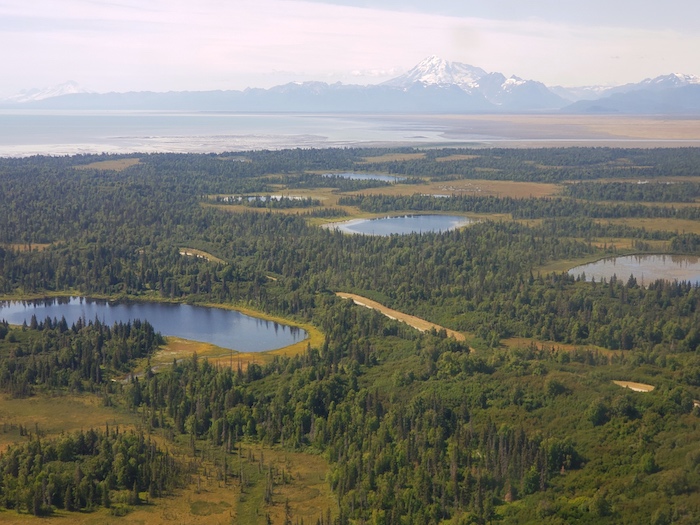 Our flight lasted about 20-25 minutes as we crossed Westwardly over Cook Inlet. We flew over the water and passed other float planes in midair. We flew over oil refineries and eventually made our way back over land. While crossing the grasslands stitched with evergreens and laced with creeks and small ponds, we spotted a moose grazing in a small body of water. As we approached our landing zone, we overheard the pilot conversing with another about a boat that was impatiently motoring up river where we were supposed to land.
We had to circle a couple times and ensure the strip, a windy section of creek, was free of traffic before we could land. We couldn't believe the pilot could land where he did but in typical Alaskan bush pilot form, he did the impossible and amazed us with his skills.

Meeting Our Guide

After the float plane landed and put-put to the creekbank, we were met by our guide, Tony Mann. Tony, a longshoreman most of the year, has spent many summers working in Alaska guiding fishing trips and he takes fish whispering to a whole new level. Tony had a couple of us hold onto the float plane lines as he helped take our gear out of the boat.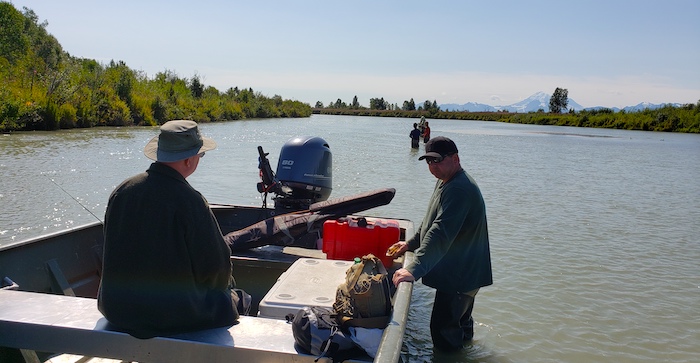 After we unloaded, another group took our seats and the plane was off. Tony took us to a small aluminum-hull boat he used to take fishermen to and from his favorite spots.
He told us the morning crew he had didn't limit out and he wanted to try further upriver from where he took out the previous group. We did our best to hold on and we cruised to that spot while taking in the scenery and waving to other fishermen on the banks along the way.
 

How It's Done

We arrived at the fishing spot in the middle of the day with the sun high above us. I was certain we would catch fish but had some doubt how quickly considering all of my East-Coast fishing is done in the morning before mid morning. Tony set us up with nice G-Loomis rods and Stradic reels. The bait we used was egg sacks in Tony's secret 5-ingredient cure that keeps the sacks together and colors them a raspberry red.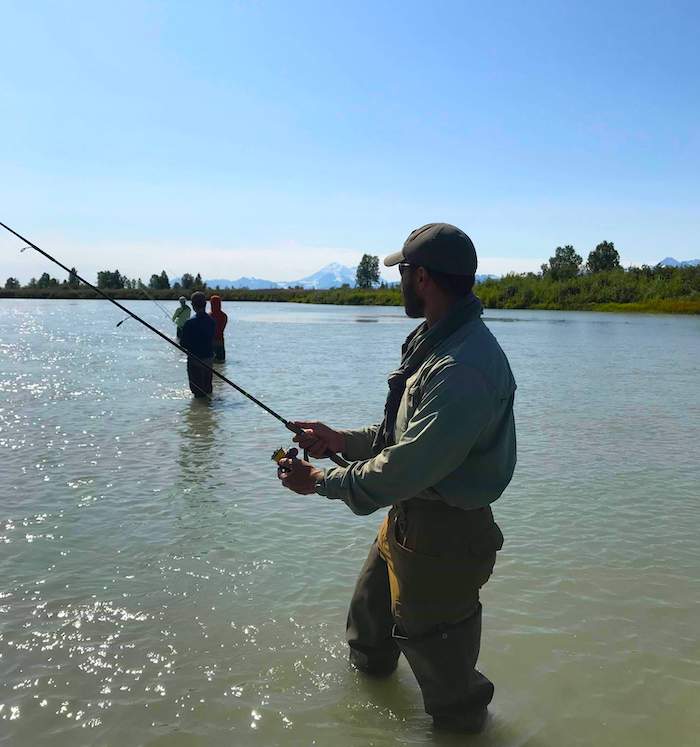 We were instructed to throw the line only about 15 feet in front of us into the chalky blue color water and be careful where we tread as the sandy bottom could suck a foot right under and cause us to fall in. We were also told the Dolly Varden, a type of trout, would take a single egg off of our bait sacks at a time and feel like a persistent tapping. The silver salmon, on the other hand, would pull on the egg sack dropping our rod tip down almost to the water when we would set the hook and get ready for the fight.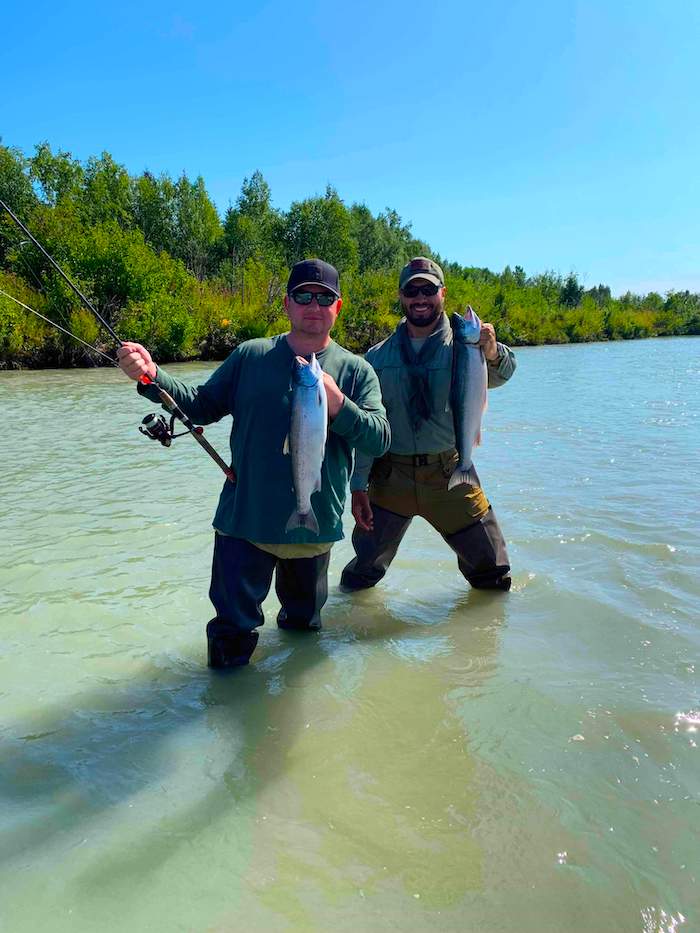 Not even 1 minute after Tony set me up for the first time and I cast my line into the water, I hooked up first among our group of guys. The silver salmon did exactly as he described. Rather than carrying a net with him, Tony bound through the water like a gazelle with a large-hooped net working up and down our line of fishermen. He did this over and over baiting our lines, unhooking salmon, and helping us take photos "For the gram!" Instagram for those of you not familiar with the term.
The salmon fishing was so good, I limited out with my 3 in only 15 minutes. The rest of the guys continued to fish and we quickly worked our way toward our limit. A few of the guys caught dolly varden and released them. A few guys caught "chromers" meaning the salmon was just in the sound and hadn't lost their luster yet. In short time, we had our limit and had one request of Tony; a place on shore to cook one up.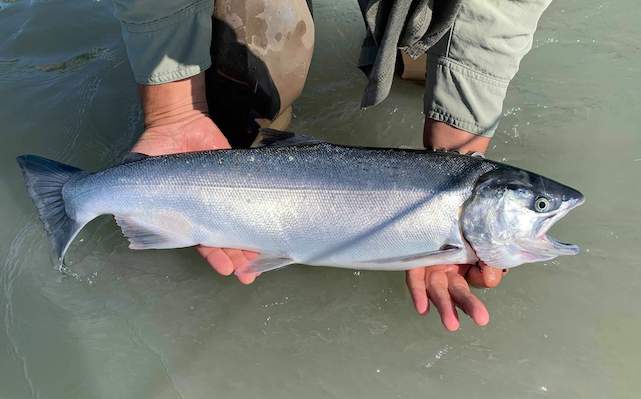 Cooking Salmon Riverside

With a boatload of salmon and a group of hungry guys, all we needed was a place to build a fire and cook a fish. Tony told us how the sandbars are frequented by bears each night and we would definitely find bear tracks. The bears are drawn by the fish carcasses that end up on the shoreline and the meal isn't hard work for the bears. 
Tony pulled up on a bank, filled with bear tracks as he promised, and gave us fair warning we only had a short time before the boat would have to leave for the float plane landing strip. We assured him not to worry and got to work. One guy in my group cut down firewood, another collected tinder, another scouted the area for additional supplies while I built a fish cooking rack on a pole out of some nearby riverside trees and Tony butterfly fileted the fish.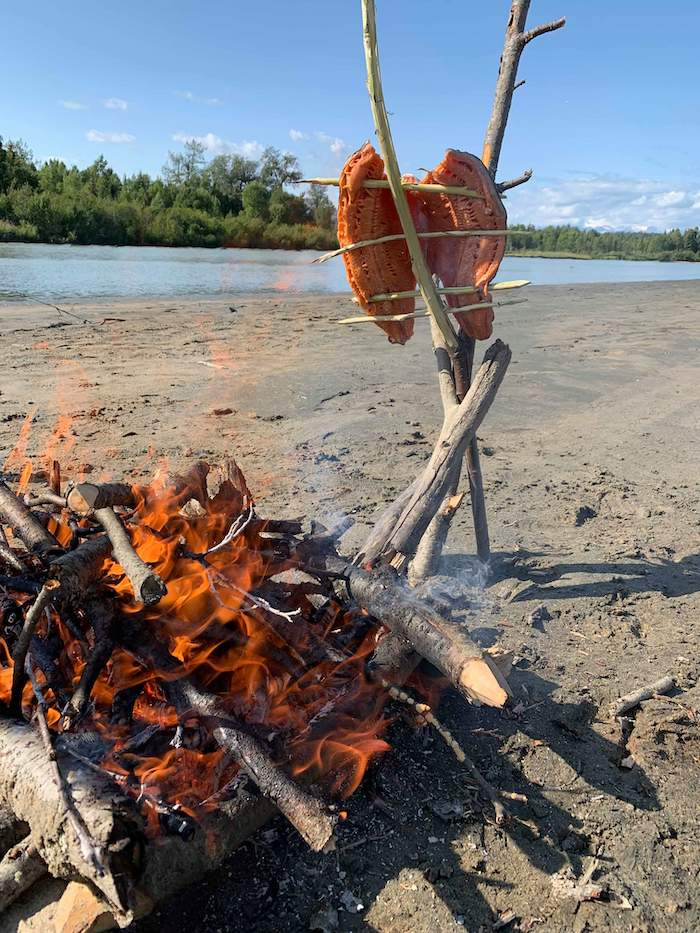 Once the fire was roaring and we had a good bed of coals, I took the salmon, pierced the skin with some skewers and placed it on the grilling rack and set it in the path of the flames and heat. The temperature the dried wood put out was intense and the fish started cooking immediately (kind of like my eyebrows did).
When the fish looked mostly done, it was removed from the rack and placed directly on the coals skin down. This ensured a thorough cooking and crispy skin pulls from the meat easily for serving. After just a couple minutes, I used my blade to quickly remove the fish from the coals and place it aside for more photos "for the gram!" The guys soon devoured it and one of the guys hand-fed Tony while he had his own hands full cleaning the rest of the boat's catch.
Tony couldn't believe what he saw and told us he never had a group do what we did. Well, we never fished what he has done year after year so we were happy to share some knowledge and great food. By the way, we had at least 15 minutes to spare before that turn-around time he warned us about. That's what a squared away crew does. We get it done.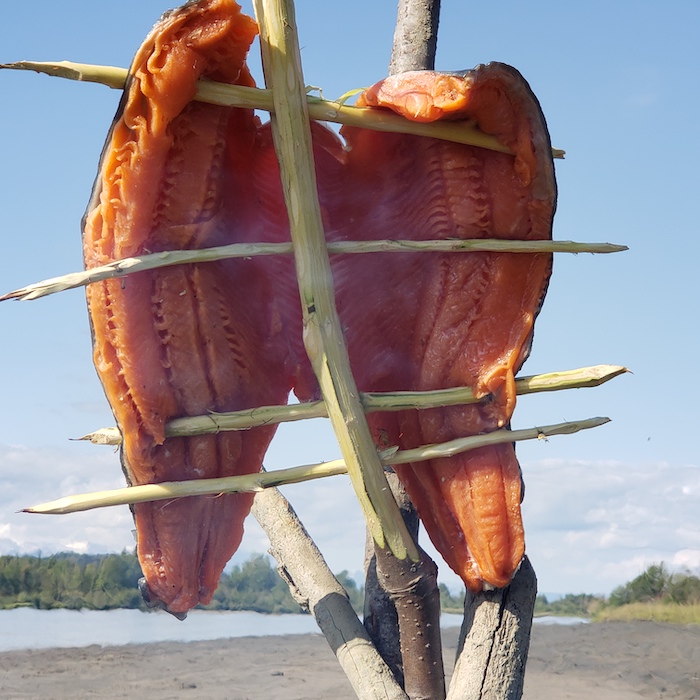 Headed Home

In case you are wondering, the fish can last in an insulated box for 30 hours from Alaskan freezer to your freezer and my personal trip home took 18 hours 30 minutes and some seconds. All the guys in my group agreed we would do this same trip the following year and we would request Tony again as our guide. Next time, we'll pack some side-dishes to go with our riverside fish. This type of fishing is addicting and I find myself counting the days until the next trip. 
If you're looking for an adventure with a great tasting payoff, look no further than doing a fly-out salmon fishing trip. You won't be sorry!