When I was kid living in small towns in and around the mountains of the East Coast, I remember marveling at the tall fire watch lookouts we'd come across on our family hikes through the region. To my young self these were the guard towers for the brave, solitary sentinels who watched over our forests, and in some ways, part ultimate treehouse, secret fort, or landlocked lighthouse.
Throughout the National Forests across the US, there were around 4000 active fire lookout towers during the 1940s. Today with new monitoring technologies and alert systems in place, as well as aircraft patrols, many of these manned lookout towers have since become "obsolete", been closed, and many are in disrepair. Not all however. A few hundred fire lookouts remain in operation for their original purpose and are staffed.
There have also been public and privately funded efforts to restore some out of service fire lookouts for historical preservation, educational programs, and even recreational repurposing. It is because of the latter, a childhood wish to be able to see the inside of one, no less stay the night, became a reality.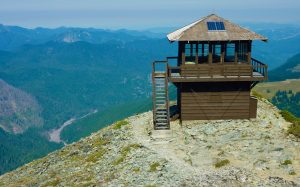 Over a year ago or so, Danger Ranger Bear first posted up on social media that a number of fire lookouts were not only refurbished but now available for rent by private citizens to spend the night. Fast forward to September 2017. After a message from a good friend who works for the USFS (under the USDA), I had a few good up to date recommendations for lookouts that were available to rent in my area (Northern California).
Just about all the lookouts available for overnight stays can be reserved on the https://www.recreation.gov/ website. Simply visit the site and type in "lookout" to see what is all available. You can browse through the lookouts for an idea of vistas, amenities and date availability. These lookout rentals have rapidly grown in popularity over the past year or two and are now often booked up several months in advance. Be vigilant and look for cancellations and/or time your search to book your online reservation at the end of each seasonal cycle when openings become available.
I picked a location known as the Sardine Peak Fire Lookout. As of August-September 2017, this was the one lookout in my area where you needed to call in (Sierraville Ranger District (530) 994-3401) to reserve it, as it had not yet been entered into the online recreation.gov reservation system. As a bonus, the Sardine Peak Lookout at this time was free to rent for a 2 night stay maximum. Stopping by the Sierraville Ranger Station was needed to pick up the packet which included a map, notes on how to properly maintain the lookout and the combos for the locks at the gate and door.
From the 89 in between the towns of Sierraville and Truckee, it was a 9 mile off road trail to arrive at our destination. There were thunderstorms during our journey there with dramatic skies, the sun breaking through the rain clouds here and there, and when we did arrive at the top of the peak, we were greeted with truly stunning views of the forested lands all around us and a magnificent double rainbow.
Please note that the trails to the lookouts can vary quite a bit, so please check the local ranger stations for passability and any vehicle recommendations. Some trails can be handled by passenger cars, others may need a truck or 4×4 with some clearance. I would say the 9 mile trail to Sardine Peak is easily passable with an AWD Subaru on up.
Our second night's stay afforded us absolutely fantastic views of the beautiful wilderness around us in a full 360º. The lookout itself was orderly and well kept. There were two single beds and floorspace to sleep on at night for parties larger than two.
Propane fueled the pair of mantel lanterns, "fireplace" and 4 burner stove. While there was also a sink, there is no running potable water inside the lookout so visitors will need to bring their own potable water supply. A short walk down the gravel driveway from the lookout lead to a decent vault toilet.
The surrounding terrain was rugged with rock outcroppings and dense pine forests. Day hikes for the simple enjoyment of the area's views were in abundant supply.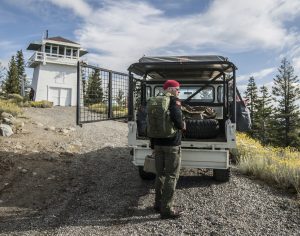 Practice "leave no trace" when enjoying any outdoor and open wild places. We were just amazed by our stay here at the Sardine Peak Lookout. Clean up after yourself and leave these lookouts as good if not better than when you entered it.
Our party was 4 people and it seemed to be a good number for this facility. This lookout is a perfect get away for a small group of friends, a family or couple. Dogs are allowed here but please pick up after it.
Most of the storm clouds had cleared by our 2nd night. The view of the night sky was remarkable.
I loved my first visit to a real fire lookout, a childhood day dream come true as an adult. Visiting more locations whenever possible are now part of my future adventure repertoire. These are an absolute great way to spend a few days in the wilderness. Stay in simple comfort, surrounded by nature's grandeur 360º.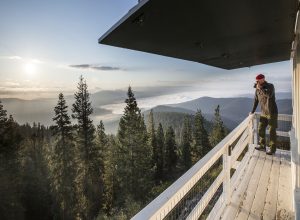 Visiting a local fire lookout is one of those just about as perfect of a 3 day (non-roughing it) wilderness getaways as one could imagine. One for the adventure journal without a doubt- I hope to write more in the near future!