Whenever I'm out camping or hiking on a cool day, I always bring along a small selection of easy to make warm beverage packets and a small camp stove. Having a hot beverage available is great while taking a break on the trail and can be a real morale booster during unexpected changes in weather. What do I bring along with me? When out backpacking, hiking, weight and beverage selection is a factor so I try and keep that in mind. Here's a list of my go to camp stove and beverage choices:
Camp Stove: Small Solo Stove and Pot (found at most outdoors stores and online).
What I like about this stove and pot combo is weight, weighing at just under 1.5lbs. It's easy to pack space wise and what's better- I do not have to pack a fuel canister. The Solo Stove uses natural fuel as it's heat source. I use wood shavings as the ignitor and broken sticks to get the stove going. I can have a cup of boiling water in about 5 to 10 minutes.
*Danger Warning: Always make sure what ever area you will be using your stove, or fire source in general, it's in an area that's approved for such. And most importantly is to make sure you always put out your campfire or stove in a proper manner. And let your stove cool down before repacking it.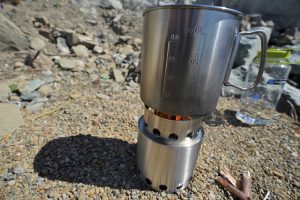 Beverage packets: In my pack I like to carry a small selection of coffees, teas, and one or two packets of apple cider or hot cocoa. Starbucks has come out with a nice selection of instant coffee Via packets, peppermint mocha being my favorite. Teas I prefer to bring something with mint because not only is it soothing on your senses but also will help sooth a sour stomach. Then I'll add some local sourced honey using a Versa Bear for some natural sweetness. If I'm in the mood, or have my cubs with me, I make sure to have some hot cocoa or apple cider. Sometimes either just hits the spot!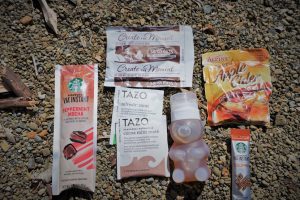 These are my go to camp stove and warm beverage choices and as you can see, having a delicious hot drink is easy to have while out on the trail without carrying much extra weight or dealing with complicated kit.
Thank you and enjoy the trails!