Big Trees State Park is located in California's Sierra gold country near the town of Arnold (Calaveras County) on Hwy 4, about a 2-3hr drive North East of the San Francisco Bay Area.
The park is considered one of the oldest tourist destinations in the State when in 1852 a trapper first viewed the giant trees and word of them spread. It wasn't until 1931 Big Trees was declared a State Park. Spreading over 6400 acres Big Trees State Park has over 100 miles of hiking trails, 129 camp sites, a Visitors Center, rivers, and other attractions amongst over 1,000 Giant Sequoias.
One of the oldest attractions (approx. 1,400 years old) in Big Trees is the Discovery Tree which was discovered in 1852. In 1853 the Discovery Tree was felled (a process of downing/cutting a tree) and was renamed The Big Stump. Walk approximately 100-200 feet along either trail next to the Visitors Center and you can't miss it! Big Trees Park is actually one of the best places to see giant sequoias due to easy accessibility and smaller crowds.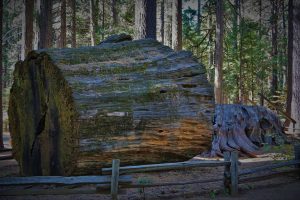 Hiking the many trails Big Trees State Park has to offer is the best way to enjoy the park. Make sure to bring plenty of water and snacks as it is very easy to spend hours just enjoying the fresh air and scenery. Furry family members who say "bark" are also allowed on some designated trails, camp sites, and picnic areas, but remember to keep them on a leash and most importantly clean up after them.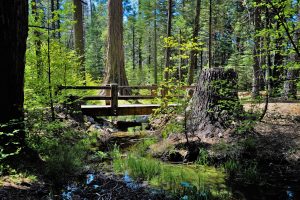 During the winter months there is still plenty of activities like snowshoeing, sledding and cross-country skiing. The Park Rangers even offer snow bound tours of the park. If you want to just take it easy you can rent a cozy cabin right near the trails.
No matter the season, Big Trees State Park is an amazing place to visit! Take your family, hug a Giant Sequoia, and make some memories of your own! Oh and one last tip…..Bring a camera!