Recently Prometheus Design Werx both released the SPD Edition Wenger Blades Wiglaf tomahawk and sold out of it. The photo previews of this modern tomahawk clearly connected with their followers and quickly sold out upon their release. The Wiglaf is a very capable little tomahawk that comes from a strong lineage of very powerful larger blades offered by the custom knifemaker out of Michigan. Noticeably smaller than your average tomahawk, the Wiglaf packs quite a punch and this Mountain Gorilla has a wealth of experience using it, well an earlier non-PDW version of the same hawk, hard while evaluating it for a few major outdoor survival magazines and the maker during the testing and development stage. I've known about this PDW/Wenger collaboration for a while and it has been hard to keep it a secret. I knew this blade would leave quite an impression on the PDW community as it did on me.
This edition under PDW's SPD (Special Projects Division) marque, is reserved generally for limited, custom made goods. You see, the Wiglaf might look small but it really packs a punch. I get it, some of you may not want to use your hawk because it really is a work of art and pretty damn nice. That's alright, I'll use mine 6 different ways harder than you may ever use yours so you can keep yours minty new and rest assured it can handle it. Here's what it is capable of!

1. Chopping: A chopping tool like an ax, tomahawk and hatchet has a clear advantage over a small knife. It has mass making it a better chopper. Not quite as fast as a long machete, an ax-like tool uses mass instead. Where some tomahawks are simply too light to be effective, the Wiglaf has a good amount of weight despite the size thanks to the thickness of the full-exposed tang design. I've used my Wiglaf for chopping down small trees with only a couple swings (some only needed a deep forehand swing and a single backhand) and others were easily felled with 4 cuts around the circumference of the trunk. Limbing takes a little caution as your hand is close to the cutting edge but once you learn the range, the Wiglaf cuts like a bandit. With the full-tang construction, the Wiglaf can be pounded through a stubborn log by the fireplace with a wooden baton and you'll never have to worry about the head coming loose. For it's size, it is a chopping machine.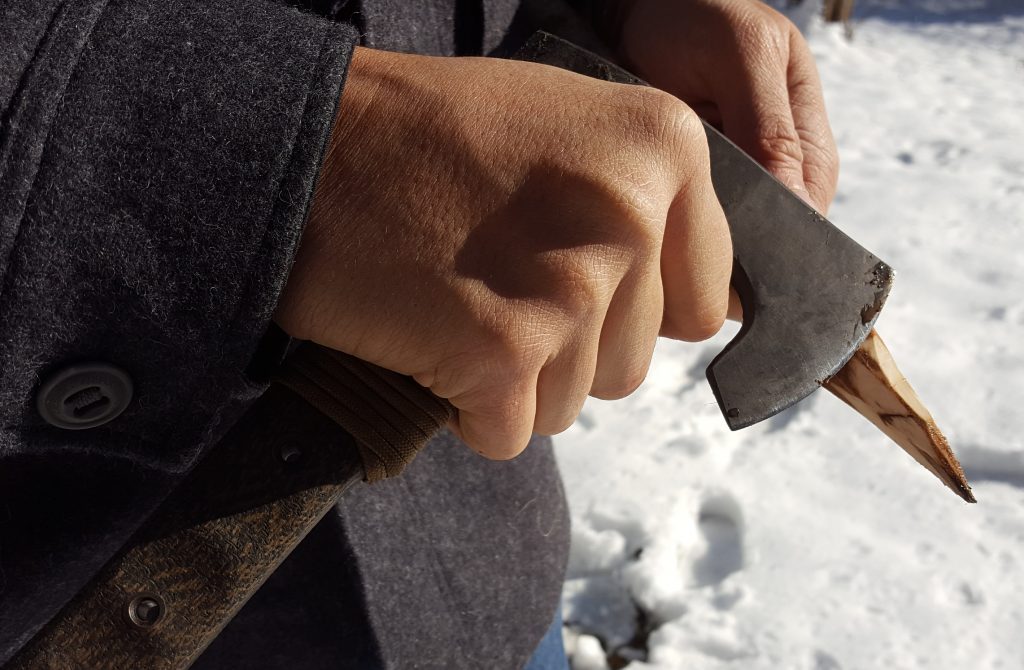 2. Carving: Even though the Wiglaf is technically a small ax, it doesn't cut like one. I don't mean that comment in a negative way as it does cut well but it also has a razor-sharp edge that works like a knife blade when the user chokes up on the head. The paracord wrapping keeps your hand warmer than grabbing exposed steel. How well does it carve? Fine fuzz sticks aren't a problem. Cleaning fish or small game, also not even an issue. One handed? Well, bury the head with part of the edge exposed and manipulate the wood around it. You will find this little hawk to be part hawk, part small fixed blade knife. It works equally well slicing, whittling and scoring as it does chopping and making wood chips fly.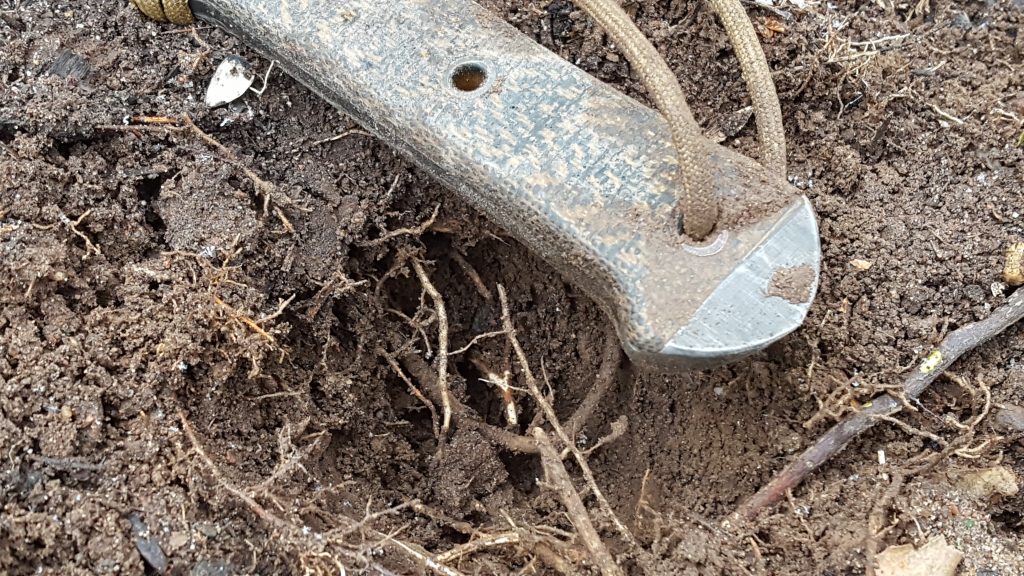 3. Digging: Rather than having a wide handle butt, the Wiglaf has almost a chiseled point. When the head of the Wiglaf is safely covered, the user can utilize the Wiglaf like a digging stick. Pushing down on the head and levering the handle makes digging cat holes a pinch when you need to bury your waste. Come spring foraging time, you can leave your spade behind and just carry the Wiglaf on your belt when the ramps start coming up. If you don't want to get your orange liners dirty, you can carve a digging stick and keep that bright accent under the green canvas micarta clean.

4. Crushing: There are plenty of torture tests online but who would torture such a beautiful little hawk? I'm the PDW Mountain Gorilla and subtlety isn't my strong suit. Let me be the one to do what you are probably wondering. Rather than using the edge like some online "experts" would argue is a good idea, I used the hammer pol to absolutely crush through everything from padlocks to coconuts. The 80crV2 steel is stronger than a locking mechanism and any shell or husk and while it may cause some cosmetic marks on the steel, you'll be hard pressed to break a hammer like the Wiglaf's. The RC hardness of the head is 59 which is harder than I would like for a true hammer but in an emergency, it will hold up fine. Now, I'm not for all out torture and destruction and I use my hammer pol sparingly. I've tested my Wiglaf over the years on various mediums and it has passed with flying colors everywhere. Maintain your edge and use the hammer when you absolutely must Hulk-smash something like a padlock or gain access through a wall somewhere. After all, the wilds of the outdoors can be found in urban environments too. If you're going to use the pol, do yourself a safety favor. Keep the head masked and employ the lanyard to keep a grip on it.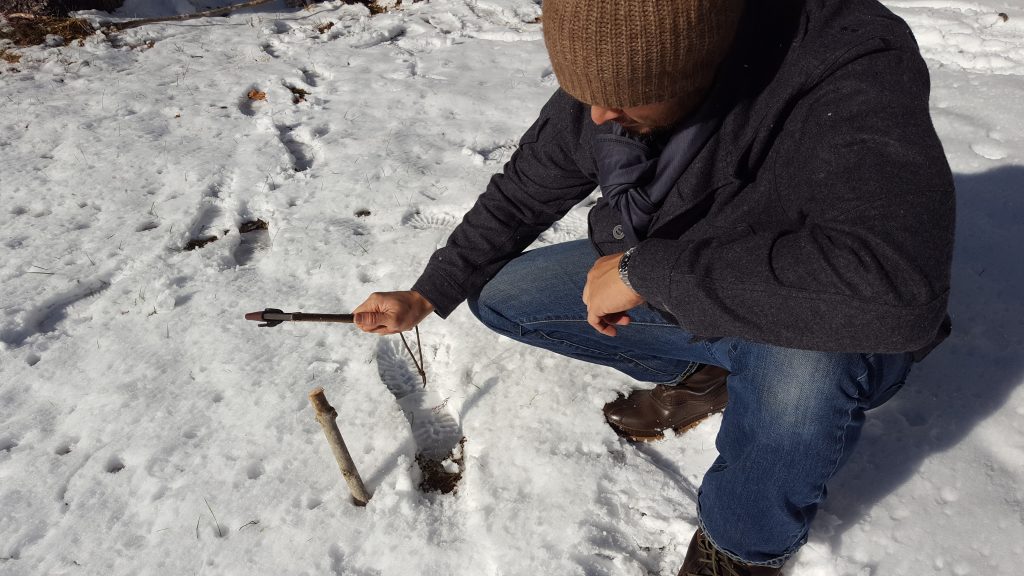 5.Hammering: While you do have a hammer pol to utilize for crushing, I don't recommend using it like a hammer on small diameter targets. Cracking open coconuts is one thing, hitting the head of a tent peg is another. When I need to pound in a small wooden tarp stake, I use the flat of the blade instead. The Wiglaf has a lot of mass that works well as a hammer. By using the side of the hawk, I avoid misses that could break my fingers on an errant swing. I try to avoid hitting metal on the flats to avoid marking up my blade too much and if I really need to hammer something, I'll carve a baton out of hardwood with the Wiglaf.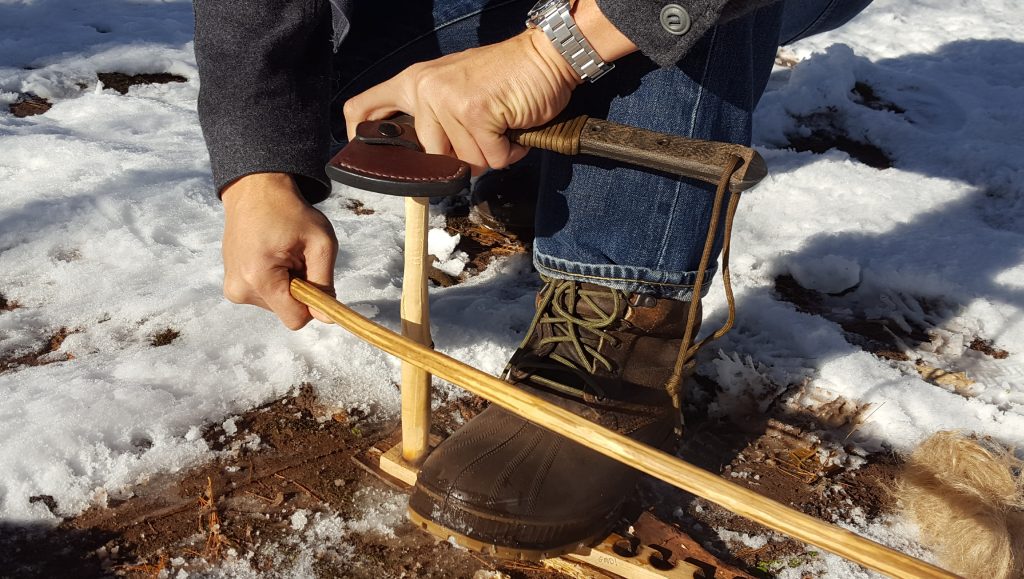 6.Fire Starting: Perhaps the coolest feature of the Wiglaf is the integral bow-drill divot. As someone who regularly teaches and practices fire by friction, I can say second to the cordage you can make or use, a good bearing is hard to find/make. The Wiglaf has a very noticeable bow-drill divot that actually works. I tend to tuck the handle in the crease of my knee for increased stability. If you're just getting started with friction fires, you can use the lanyard from the Wiglaf for a bow string and you can use the hawk to cut and carve your pieces. In fact, that makes a great homework project for the readers here. Go out, be the outsider, and make a friction fire set up with your new hawk. Maybe one of my future blogs here will be some tips on making a set from the land and I'll feature my Wiglaf throughout. For now, go practice!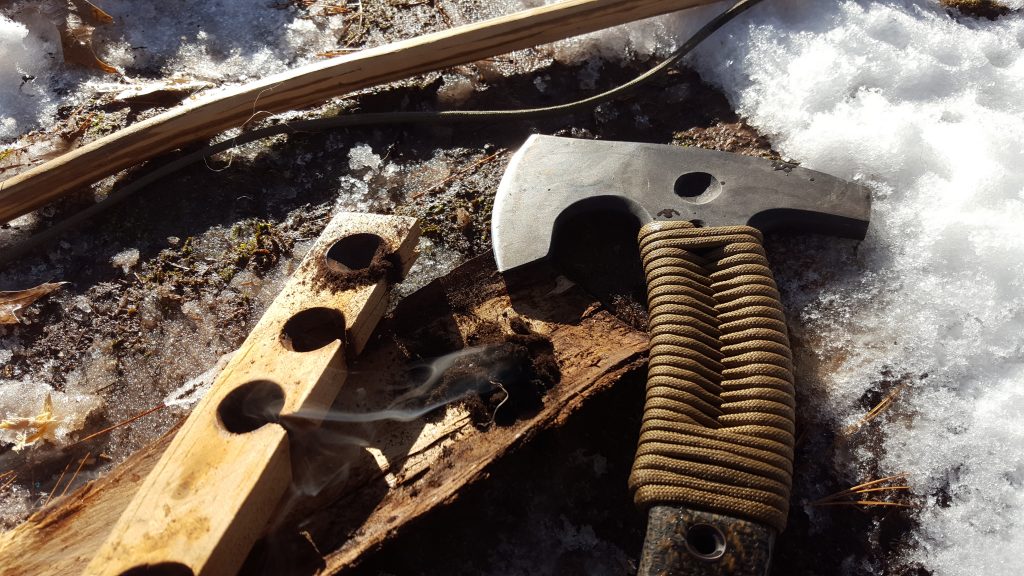 The Wiglaf is sure to be a Prometheus Design Werx favorite. I've fallen in love with mine over the past couple years and it is easily one of the most popular designs to come out of the Wenger Blades shop. When you have a tool that is the WD-40 or duct tape of the tomahawk world, it's easy to understand why. Use your Wenger Blades PDW Wiglaf with confidence. It will provide you many years of service and help you in all of your outdoor adventures. While this first run sold out quickly, PDW is already on working with Wegner Blades to bring in more Wiglafs over time as Dave Wenger's production schedule allows.