All the bags are packed, route is planned, and now you're ready to hit the road. Well you're ready, but is your vehicle?
In this article I am going to go over a short pre journey vehicle inspection list that should only take about 30 minutes to 1 hour.
The only tools needed will be a tire pressure gauge, flash light, and a vehicle floor jack with stands or ramps (if needed).
Vehicle check list:
1. Fluid levels: washer system, brake, coolant, engine oil, transmission oil, gear boxes, power steering.
2 . Lighting: low/high beam head lights, tail lights, reverse, turn signals, parking, emergency flashers, interior lighting.
3. Tire pressures: specs usually found in driver's side B-Pillar area, fuel filler door, or owner's manual.
4. Wiper system: front and rear wiper blades, windshield washer system. Replacing all wiper blades after heavy winter use is recommended.
5. Brakes: visually inspect front and rear brake pads. If your vehicle is equipped with drum brakes there should be an inspection plug you can remove and inspect from the back of the base plate.
6. Vehicle walk around: Inspect all vehicle glass/mirrors for damage. Check operation of all the doors/trunk/hood for proper opening, closing, and locking. Side windows for proper open and closing.
7. Warning system: Is the Airbag/SRS light on or Check Engine Light on? Are there any other warnings displayed in the instrument cluster, if your vehicle is equipped as such?
8. Horn: Always test the horn. In either a warning or emergency situation it's better to have it.
9. Roof racks: If you have any cargo loaded on top of the car make sure the load is properly tied down and secured. This is a huge safety concern for you and other drivers on the road. Putting a turn in the webbing can help with the buzzing sound at speed. Tuck in excess strap to avoid that annoying slapping of the tails in the wind.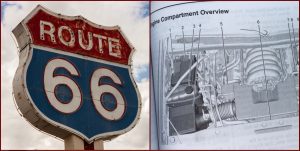 Tips:
A great resource for your vehicle is the Owner's Manual. In the manual you will a lot of information on how to's, proper fluid types needed, component locations, etc. During the inspection if any component failure or fluid leak is found, it's always best to get it repaired. Most vehicle repair shops and dealers can perform this inspection for you, also suggest any repairs if needed.
Thank you for taking the time to read this article. Hopefully this check list and tips will keep your vehicle on the road to your destinations. Please be safe and most importantly enjoy your journey!
Things can seem tremendous the first time one goes to order spy apps for mobile phone. What aspects families think when they are going to use how to catch a cheating husband? Here we discussed at some key matters to keep in view, as well as how you can find options to start. What is the most momentous information you should know about catch a cheating spouse? Probably each adult knows about "how to catch your boyfriend cheating". Sure, before you go and purchase the spyware, you must know a little bit about the provider. However, you have to appreciate one fact that there are wide ranges of spyware are available depending upon your needs. Absolutely, we cannot deny the fact that cost is not always a perfect indicator of quality. Thankfully, any good producer usually will allow you to upgrade a sofware later on if required, so don't feel as though you need to start off on a plan that costs more than you need.