Over the past weekend we attended Overland Expo at Ft. Tuthill Camp grounds in Flagstaff Arizona. The site itself is a recreation area with campgrounds, a rodeo ring and partly on an old Army installation that still has old barracks buildings intact. Just outside Flagstaff proper it is at approximately 7,000 feet which means pines trees, cooler temperatures and slightly thinner air. (Word to the wise, bring a hat and sunscreen.)The location is also great if you want to make it an extended trip and visit nearby Sedona or depending on your direction of travel the Grand Canyon or old Route 66.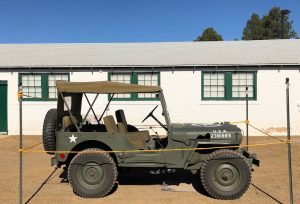 This year the weather overall was very nice with sunshine and breezes, but not enough wind to cause runaway tents and canopies. Overland Expo veterans like to reminisce about previous years that have seen everything from rain and mud to even a bit of snowfall. 
2018 was also the first year Prometheus Design Werx had a booth at the show. From Friday through Sunday the PDW crew were able to meet people from all over the world, chat and demonstrate the various products on hand. In addition to the human participants dogs of every shape and size were at the show. Also in attendance was one brave adventure cat named Mushi. There were also some claims of Jackalope sightings! 

The Overland Expo has nearly doubled in size since I was last there in 2016. Up and down every aisle was just about everything you need for an outdoor adventure from the smallest flashlight to a full custom vehicle. And no doubt the vehicles are the real stars of the show. Whether it is on two wheels or four you will find an amazing array of modern and classic motorcycles, trucks all the way up to million dollar Earth Roamers.
This year's trends appeared to be turtle style shells, sprinter vans and pull out drawer systems for most popular vehicles like Toyota Tacomas, Jeeps and the aforementioned vans. One of the best drawer systems we saw was by Decked, who's polymer drawer systems help cut significant weight, but still can support the load of an ATV. 

A couple of products we liked for eating around the campfire were Grub Sticks and a portable fire pit/grill called the Flat Pit. Speaking of food- If you got hungry during the show, there was plenty of delicious grub being served by the various food trucks at the show. The smells of Korean BBQ, wood fired pizza and other grilled treats were hard to resist.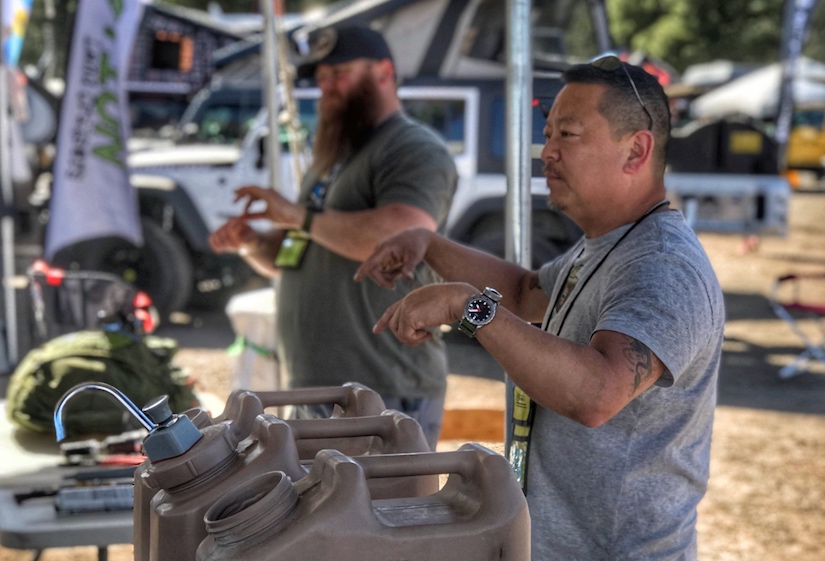 Besides all of the vendors and amazing vehicles there are plenty of instructional seminars and demonstrations over the three day event. PDW chief Patrick Ma showed off the Scepter Water can conversion you can find (Here). In a separate area Land Rover was running a driver's course that also allowed you to put your own 4×4 through its paces over a variety of simulated terrain and obstacles. 
Finally, and maybe the best there was plenty of socializing going on whether meeting old friends from previous shows, making new ones or attending the various mixers that occurred throughout the weekend. Sunday morning the guys from American Adventurist and Tembo Tusk even cooked up bacon and eggs on their Skottle for their "bring your own plate" breakfast- it smelled great!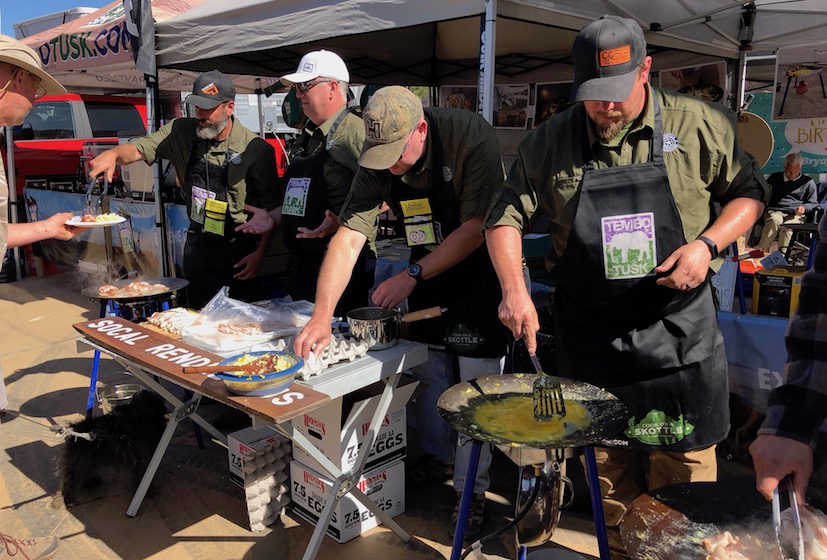 If you missed this year's Overland Expo West or you are east of the Mississippi you still have a second chance to make it to their Overland Expo East which is held November 9-11 in Ashville, North Carolina. East or West if you love the outdoors there is no doubt you will have a great time at either Overland Expo show.