Once a bit of a novelty, electronic devices of all types have found their way into the mainstream of essential outdoor kit. GPS, digital cameras, cell phones all require power and typically need daily charging if they are used anytime throughout the day. Previously this meant plugging into your vehicle and running the engine. If you had one near…if not, you were out of luck. Devices had to be used sparingly always with one eye on the charge indicator. The market responded, but it was hit and miss. The founders of Core Third experienced these short-comings of the available products while engaged in humanitarian work in underdeveloped parts of Africa. Frustrated by the lack of options, Core Third was formed to create a better solar charger and storage system.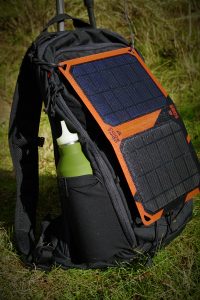 Core Third's products show this real world experience with features that make their system practical and effective. Their charging cables are ruggedized on the outside and feature both a lightning cable and micro USB plug that is tethered to itself to prevent loss. This also alleviates the need to carry more than one cable. The solar panels are lightweight, compact and very rugged. Able to withstand the elements, the panels are water/weather resistant being lamented onto hypalon. On the back of the panel the charging ports feature rubber inserts to keep out water and debris.
Finally their power banks (battery) are made from aircraft grade aluminum. The largest is a 10000mAh battery that is 1/2 inch thick and slightly over 8 ounces. Other features are a LED power indicator on the side and dual charging ports which are omni-directional, making things that much easier after a long day on the trail or operating in the dark. The power banks have a one year warranty and the solar panels have a lifetime warranty. For optimal use, use the solar panel to completely charge up the power bank during the day and then charge your devices at your leisure during down time or in the evening.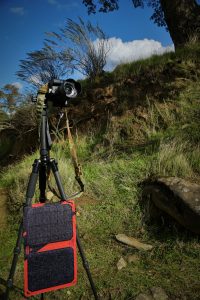 Field test:
Factory Output Specs: Up to 10w/5V/2Amps During ideal conditions.
My findings and test results (on an average) over a Two Day period:
Weather Conditions Day 1: 65 deg F and Partially cloudy
Weather Conditions Day 2: 71 deg F and Sunny
Output test results using a USB Test Lead and Fluke 87 Multimeter:
4.8-5.3Volts 0.58-1.1Amps
Charge time to fully charge and iPhone 6S (started at 15%): Approx 3.5 Hours
Results were the same using a Drok USB tester (Found on Amazon)
Core Third's Massai 10 Solar USB Charging panel is a nice piece of equipment to have. It's light weight and folds in half to easily store in a pack or stow bag. The gear ties provided made it easy to attach the panel to the exterior of a pack while hiking or to a camera tripod when shooting pictures.
While out in the field I did test the charging capabilities while my full sized camera (Sony A7ii) was in use. Due to my cameras function during testing I found I can not charge the camera battery while in use. Camera turned off, battery inserted, charger connected to mini USB port on the camera, the battery will charge which took approx. 4.5 Hours starting at a 10% remaining battery life.
Angling the solar panel directly towards the sun did make a slight difference (0.2-0.5V) depending if the panel is laid flat or adjusted towards the sun. Will this make a huge difference in charging time? -Highly doubt it.
The hypalon material that the panel is mounted on is a synthetic rubber used to make zodiac boats and is UV, chemical and heat resistant. The solar cells should stay protected even when exposed to wet conditions or slight impacts. The only downfall with wet conditions will be the USB port area during use, but odds are there won't be much sunshine while it's raining.
The price of the panel at around $100 is highly competitive to other brands on the market and I feel that considering how well built the Massai 10 Solar panel and power bank is, you're getting a great quality product going with Core Third.